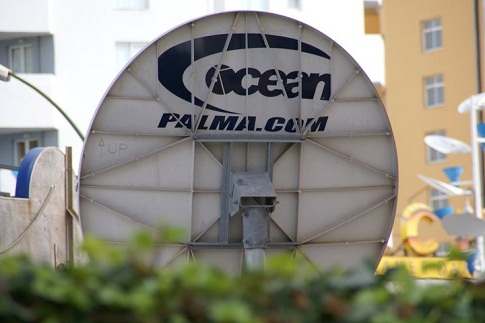 Satellite Installations
The Solution
Freesat Youview hybrid (prices from 408euros to max 468euros incl installation ) set top box gives you the ability to scroll back up to 7 days with a familiar TV guide, it works even when it's raining hard. The seven day scroll back guide brings together catch up TV from across BBC iPlayer, ITV Player, All 4 and Demand 5, all Iplayers have 28 days catchup. Simply scroll back through the guide and choose from a great selection of programmes. Catch up TV where it should be, on your TV.
On Demand
On demand is organised so you can see at a glance which programmes have just been added and which ones are the most popular. Of course, if you're just looking for a bit of inspiration or want to see what else is available, you can browse by genre or channel provider instead - the choice is yours.
There are thousands of programmes available in on demand, they have organised them by genre to make it easy to find what you're looking for. Comedy, Kids and Documentaries are just a few of the great categories you can browse through. Got a favourite entertainment provider? All the players are in one place so you can choose the one you want and find something to suit your mood.
Browse through the next seven days' worth of TV listings, without affecting the on screen programming. Scroll back to see the programmes you've missed from the past week. If you exit the TV guide and go in to the BBC iplayer then 28 days of catch up is available.
The Hybrid Remote Control
The Hybrid remote control is much larger than the a regular IPTV remote control, it's actually slightly larger than even a sky remote and can even be programmed to control the TV on/off and volume control. With your smartphone or tablet can even be connected to your Hybrid box, you can take control of your viewing, without needing to use your existing remote control or affecting what's on screen.
Reliability
The satellite tuner has a stronger tuner compared to a sky HD tuner, so helps maintain overall viewing from the live satellite signal. If the internet stops working you still have the back up of live satellite signal or if it rains and the satellite signal starts breaking up you can still scroll back 28 days.
Seamlessly Switching Between Satellite and Hybrid mode
There are no fiddly buttons that flip between live satellite and IPTV. Instead its done seamlessly on the a familiar 7day TV guide, simply scroll backwards in 7 days in internet mode and simply scroll forward for live and future TV in the satellite mode.
Better signal doesn't always mean a larger dish.
There are many different types of satellite dishes from extra flimsy iron dishes that will buckle, fold, or simply fall down in strong winds, to extremely large 2 meter dishes that just don´t receive a decent signal down to poor quality design.
Many satellite dishes are just not suitable for Mallorca's climate and changing weather. Having an inadequate satellite dish will create all kinds of problems, from channels breaking up or simply not working at certain times of the day, to costly realignments every time there is a slight wind, or even falling down damaging your property.
Will it move when there are strong winds
Our wall brackets are installed with high load 2 component chemical resins making it possible to install dishes on weaker walls or where dishes have no shelter from constant wind. This component resin is used usually for attaching much larger building structures together such as structural concrete beams When I had my box installed in the UK, a phone line was attached. What do I need in Spain?
A phone line is not needed. You should not bring to Spain a Sky box that was installed by Sky in the UK less than one year ago, as you will have agreed a contract to have the line attached for twelve months. If you disconnect the box before this time, Sky will charge you extra. This also applies to the special offers on the Sky website.